Granite
Natural Granite Countertops Add Beauty and Value to Your Home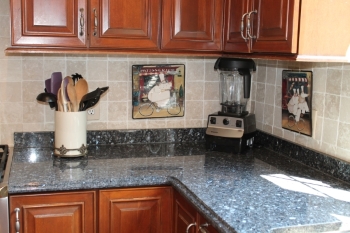 For heavy use in the kitchen, nothing beats a granite countertop. Almost as hard as diamonds, granite offers long-lasting scratch and heat resistance. When properly sealed, a granite countertop also resists stains, causing liquids to bead up on the surface instead of soaking in.
A Natural Stone, Every Slab of Granite Is Unique, Just Like Your Home
Often found in greys and whites, granite is also available in other colors including red, blue, green and black. With totally unique swirls and patterns found in each stone, you are ensured a one-of-a-kind countertop when you choose granite.
Working with All Stone and our list of suppliers means you'll find the right stone color for your kitchen. Decades of experience fabricating and installing natural stone countertops lets us create custom countertops at very competitive prices.
If you're not sure exactly what color, pattern or even stone type you need, let us know. Our team of expert granite countertop installers will come to your home with color samples and help you choose just the right stone for your kitchen, bathroom or other remodeling project.
Seal Your Granite Countertop to Protect From Permanent Stains
You need to consider re-sealing your granite countertop on about an annual basis to keep it protected from damage from wine, oils and grease. Granite is naturally porous and must be sealed to keep its appearance. Granite counters are very tough and can stand up to heavy damage, but is not immune to all external threats.
Take the measures necessary to protect your investment. Consult our guide on how to seal granite countertops to give your counter another year of rigid defense.
Pricing Granite Countertops: What You Need to Know
Granite prices can sometimes feel random, and to some extent they are. Certain pieces will be priced based on aesthetic value and rarity, but there are ways to make sure you keep your countertop project under budget. Find out more about how to price granite countertops and what to expect when it comes to pricing your granite project.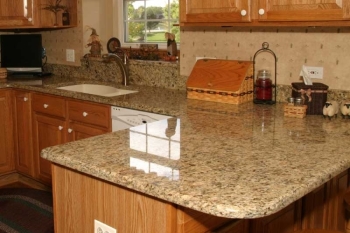 Granite Vs. Quartz Countertops: What's Better?
Both granite and quartz are highly durable, sleek-looking counter surfaces, and many people spend hours and hours trying to figure out which surface to choose for their kitchen design. Granite countertops have a few key differentiating factors from quartz:
Granite features natural imperfections, as it's a natural stone and quartz is engineered
Quartz is non-porous, but not granite. Granite needs to be sealed regularly
Granite shows seams a bit more than quartz
Granite tends to add a "wow" factor, and quartz acts more as a visual complement
Check out our useful granite and quartz comparison guide if you're on the fence and need some expert input. Our kitchen and bathroom installers want to help you design the kitchen of your dreams, and it starts with choosing the perfect countertops.