Kitchen Countertops
The kitchen is the heart of your home and nothing is more important than its counters. You'll cook, work and eat over them every day for years to come. Picking the right material for your kitchen counters is an important choice you'll make when remodeling. We can help make the selection process easier as our experienced team can make suggestions based on your kitchen's design as well as your family's lifestyle.
Among Counter Material Types, STONE, Both Natural And Engineered, Is The Clear Winner.
Stone countertops offer a beauty, durability and functionality other materials lack. Literally rock solid, you can depend on a stone countertop to last for decades with only minimal cleaning and maintenance. Plus, since every natural stone is unique, you are ensured a completely custom look for your kitchen. Engineered stone lets homeowners pick vibrant, striking colors not found in nature. Whether you choose natural or manufactured stone, a stone countertop will add character to your kitchen without sacrificing performance. We can further customize the appearance via your unique layout and edging choices. These customizations can include whether or not to have a full-length or 4 inch backsplash, where the sink(s) are, the shaping of the corner edges, and more.
Granite vs Quartz vs Marble vs Quartzite: Lots Of Choices For Your Kitchen Countertops
By choosing All Stone to remodel your kitchen, you'll gain access to some of the best stone importers and distributors in the Midwest. Our natural stone types include:
Those looking for engineered stone are spoiled for choice by our huge list of quartz countertop suppliers.
Choosing between the different material types involves taking many factors into consideration. How much you cook, the amount of time you wish to spend on maintenance and your budget are all important things to bear in mind when picking a countertop material. Check out our granite vs. quartz comparison guide to decide whether you prefer granite or quartz kitchen countertops.
Fortunately, the pros at All Stone have years of experience helping homeowners like you select the right stone for their needs. We'll even come to your house with stone samples, help you pick the perfect color and assist in finding the exact slab to make your countertops.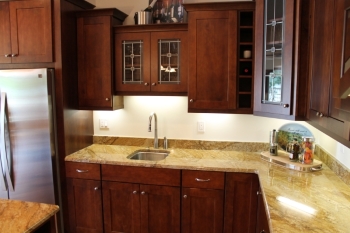 Replacement Kitchen Countertops: Start To Finish Perfection
We understand remodeling your kitchen with stone counters is important. All Stone takes customer satisfaction very seriously, which is why you'll work with the owner from the initial estimate to the final installation. Every step of the way, you'll have direct contact with the owner of the company, making sure your project goes perfectly.
All Stone is a one-stop-shop for kitchen remodeling. You can depend on our helpful staff to handle everything from designing and fabricating your new counter to removing the existing counter and replacing it with your stone beauty. Trust All Stone to get the best natural or engineered stone kitchen countertop for your home.