Marble
Marble: Install an Ageless Classic in Your Kitchen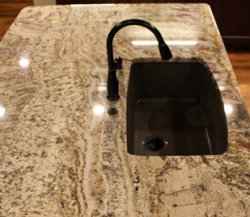 Statues, landmarks, basilicas and even your home can all share in the timeless beauty of marble. Its rich, deep colors add elegance and class to any kitchen. Choose marble as the natural stone for your remodeling project and you're guaranteed a long lasting, great looking, functional countertop.
Dent, Chip and Heat Resistant, a Marble Countertop Will Never Disappoint
With a huge range of color hues and vein patterns, every marble countertop is completely unique. White, pink, green, black, yellow and gray are all available and no two shades or vein structures are alike.
Caring for a custom marble bathroom vanity or kitchen countertop does involve a bit more dedication and attention to detail than other stones. Marble is naturally quite porous, meaning unsealed marble will stain easily. Properly sealed, though, stains should not be as much of a problem. Marble will etch and scratch, but, depending on the finish, it may not be obvious.
Settling on a stone type for your kitchen remodeling project is a big decision, especially given the cost and number of options. Let the countertop installers at All Stone put their decades of experience to work for you. We'll help you understand the pros and cons of each material, making it easier to pick the right slab for decades of use.
Kenosha Marble Countertops Installation at a Competitive Price
Kenosha's home and business owners choose All Stone for marble countertops installation. Our team of skilled craftsmen offer you:
Decades of experience fabricating, installing, and maintaining marble countertops
One-on-one collaboration for your custom marble countertop project
Honest consultation on whether marble countertops suit your lifestyle
Local focus on installing countertops in Southeastern Wisconsin and Northern Illinois
Since 1950, we've been working with marble fabricators and suppliers, which gives our customers quality marble countertops with a reasonable price. It's the reason All Stone is one of the most trusted and reputable stone countertop installers in Wisconsin.
Custom Fabricated Marble for Your Kitchen Countertops
The kitchen should be unique. You deserve a gorgeous space to call your own, not only for your one-of-a-kind creations, but also for family gatherings and entertaining.
We install custom marble countertops for all types of kitchen layouts, including:  
Galley
One-wall
Peninsula
Horseshoe
Island
All Stone's custom fabricated marble countertops are exactly what you need for the room where you spend most of the time and exert your creativity. Our seasoned marble installers will appoint an exquisite slab of marble that captures the delectable ambience. Call us today for a free quote!
Kenosha's Premier Marble Bathroom Countertops
Your high-end master bathroom oasis is incomplete without the lush swirls and etchings of a custom marble countertop. All Stone will select a one-of-a-kind marble slab for a tranquil custom bathroom, reminiscent of a luxury Cancun resort suite. Surround yourself with marble beauty during each soak in the tub.
Our bathroom countertop installers work with all kinds of bathroom layouts, including:  
Master
Half
Full
Three-quarter
Powder room
Complement All Stone's gorgeous marble hues with custom glass work, white porcelain fixtures, and a claw-bottom tub. The design is up to you, but an impeccable installation of your new marble bathroom countertop is where our strengths lie. Contact us now for an estimate on your new luxurious marble bathroom!   
Stunning Custom Marble Fixtures for Bars, Patios, & Outdoor Kitchens
We all know marble stuns in kitchens and bathrooms, but why stop there? Since the 1950's, All Stone has installed bold marble fixtures in custom homes in Wisconsin and northern Illinois. All Stone can transform your basement wet bar with the elegance of marble or frame your crackling winter fire with the nuanced swirls of a marble hearth. If you or your designer can fathom it, we can fabricate it. We're one of Southern Wisconsin's oldest and most trusted marble stone installer.
All Stone Teaches How to Clean & Care for Your Marble Countertops
High-end marble countertops exude taste and sophistication, but if you're having marble installed for the first time, you'll want to know how to maintain it for years of exquisite beauty. All Stone's master marble installers are not just contractors and carpenters; we're also designers, geologists and teachers. It's our pleasure to lead you through the steps for caring for your new marble countertops. Those steps involve sealing, protecting, cleaning and spot treating, and you'll be adept in them in no time, keeping your custom marble countertops beautiful for years.  
Relax. All Stone Handles It All
If you're working with All Stone, in no time you'll be enjoying an incredible new look from your marble kitchen or bathroom countertops, but a perfect install is laborious. It requires fastidious measuring and preparation. Don't worry, though, if you purchase a custom marble countertop from All Stone (or any of our countertops). We will complete the entire custom task from start to finish. You only need to relax and wait a little while for your incredible marble countertop to take shape. We'll even build cabinets or sinks right into your new marble countertop, ensuring symmetry and gorgeous color pairing.