How to Price Granite Countertops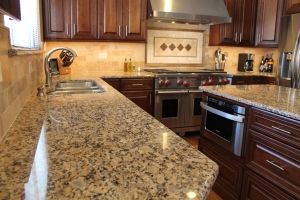 The Ins and Outs of Granite Countertop Cost
Installing a new granite countertop in your home is a large investment, and proper research should be done to ensure you are getting a high-quality and durable kitchen countertop to serve you for years to come.
Getting started on selecting the right stone piece for your kitchen can seem like a daunting task, and the first step is figuring out how to get the best bang for your buck. This guide will help you understand why granite prices are what they are and what you should expect to get for your money.
Unique Mineral, Unique Pricing
The first thing to know is this: not all granite countertops are created equal. Because they are naturally occurring mineral compounds, each piece will be unique. As such, depending on the color, veining, makeup and patterning, some granite samples can be fairly inexpensive.
Granite is composed of several minerals, including quartz, feldspar, mica and silica. The level of each of these can determine the look and color of the stone as well as its overall pricing.
A Spectrum of Granite Countertop Pricing
Lower-end granites are less expensive than man-made quartz tops, but conversely, rarer samples will cost significantly more than the high-end quartz. Much of granites pricing also depends on demand. The most popular colors (gold/tan, green, black, white) will likely cost more than those in lower demand.
Of course, the material itself is only about 25-50% of the overall cost. Other factors affecting cost are:
Thickness - Granite slabs most often come in thicknesses of 2 cm or 3 cm. If all else is equal, a thicker slab will cost you more, but it offers added strength in overhanging portions. Two centimeter pieces can often have their edges doubled to give the illusion of extra thickness without the added weight.
 
Edge - There is a wide range of edge details and variations available. Some popular edge finishes include:
• Round
• Beveled
• Ogee
• Bull Nose
• Dupont
• Waterfall
• Many other edges are also available. Keep in mind, the more complex the edge, the more it costs.
Finish - Popular granite finishes:
• Honed - essentially a matte finish with a satin look
• Flamed - this finish offers no shine and has a coarse texture, making it good for use around pools and hot tubs
• Leathered - finishing wth a softer feel with low gloss
• Polished - tops have a glossy and sleek look
Seams and corners - The more seams and corners your Kenosha granite countertop project requires, the more expensive it will be. Due to the variety of granite pieces available and the randomness of their patterning, it's nearly impossible to hide seams in granite countertops.
Additional Features - It is important to determine what additional features you want and to make sure they are included in your price. Beware - some places will only give you sq. ft. pricing, so things like backsplashing, edging, sink cutouts, templating and polishing may not be included in the estimate.
All Stone Tops Offers the Best in Granite Countertop Fabrication and Installation in Kenosha
All Stone has a courteous and dedicated staff intent on helping you find the right stone for your remodeling project. We offer free estimates to help your project stay on budget and will deliver the finest craftsmanship of any Kenosha granite countertop fabricator.