Quartzite
Quartzite: Beautiful Like Marble, Durable Like Granite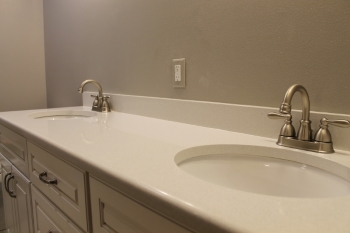 Despite their similar names, quartzite and quartz are two completely different materials. Quartzite is a naturally occurring rock that is cut and polished to make stunning countertops. Many people love quartzite for the combination of beauty and durability it offers.
Quartzite Is Harder Than Granite and Easily Resists Cracks, Scratches and Heat
The range of available quartzite colors is quite broad. White and gray are very common, as are pink and red. However, more exotic hues, like orange, yellow, green and blue, are not unknown. Given the way natural quartzite is formed, it often has a sparkle pattern you can't find with other stone types.
Maintaining a quartzite kitchen countertop or bathroom vanity requires maintenance similar to a granite countertop. You will need to seal the stone occasionally to prevent stains, but scratches and etches are usually not a problem.
When choosing the material for your countertop replacement, you don't have to do it alone. The pros at All Stone will help you select the right type of stone for your needs. Our designers will come to your house with sample stones to zero in on the perfect slab for your space and desires. Get the right stone at the right price with All Stone.
Quartzite Countertops for Kenosha Homes & Businesses
All Stone customizes stunning countertops for Kenosha home and business owners with friendly service and top-quality materials. During our many years in business, we've installed hundreds of custom quartzite countertops throughout Kenosha and Southeastern Wisconsin. Customers seeking dramatic beauty with durability choose quartzite. All Stone's adept countertop installers have an eye for design and will work one-on-one with you to achieve that balance of style and functionality. All Stone brings style into every building we service - contact our custom countertop installers now!  
Culinary Artistry: Quartzite Countertops in the Kitchen
Whether you're replacing or installing custom kitchen countertops, All Stone helps you choose the hue of your quartzite countertop to complement your home or business motif. Each quartzite countertop is rich in character and is one of the most popular countertops we install.
The advantages of having quartzite countertops in the kitchen include:
Easy concealment with swirl patterns
Unique earth tone colors
Mimics marble with natural etchings
Durable & resists heat damage
Won't discolor when exposed to common kitchen liquids
Quartzite: Ideal for Custom Bathroom Countertops & Sinks
The kitchen isn't the only place that quartzite countertops shine. All Stone installs custom bathroom countertops and sinks, surrounding the vanity with a crisp and elegant look. Its durability, resistance to surface damage, and minimal maintenance makes quartzite the perfect choice for your custom bathroom countertop project. We provide quartzite countertops and sinks for all types of bathrooms, including:
Powder room
Half
Three-quarter
Master
The naturally-occurring gray swirls in quartzite countertops coordinate beautifully with popular bathroom colors such as light blue, green, and other earth-tones. The look of quartzite in a bathroom is clean and spa-like, as you can see from our quartzite gallery or in our Kenosha showroom. All Stone is one of the leading quartzite bathroom countertop fabricators in Wisconsin and we pride ourselves in having perfected the art of creating stone countertops. Create your in-home retreat today with custom quartzite from All Stone!
Stunning Quartzite Countertops for Wisconsin & Northern Illinois
All Stone has been a premier installer of quartzite countertops since the 1950s. We specialize in bathroom countertop and kitchen sink installation, but we also design custom projects throughout Illinois and Wisconsin. Custom stone projects include:
Basement bars
Fireplace surrounds
Outdoor kitchens
We love undertaking new custom projects for your home or business. When it is time for your custom quartzite or other stone project, choose the company Illinois and Wisconsin trusts for quality installation and service. Contact All Stone today!