How to Seal Granite Countertops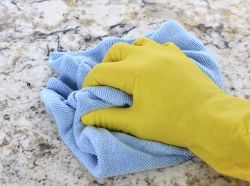 Seal Granite to Protect Against Permanent Stains
Granite countertops are naturally porous and must be re-sealed occasionally to ensure liquids aren't soaking into your stone counter and causing permanent staining. Fortunately, sealing is a straightforward, easy process.
First off, determine if your granite countertop needs to be sealed at all. Squeeze a few droplets of water on the countertop and wait 15 minutes. If the droplets are still beaded, your granite counter does not need re-sealing. Sealing the countertop too often could make it look hazy or discolored—no need to overdo it.
Materials Needed for Sealing
Granite sealer: It may come in a spray bottle or quart canister. Read warnings and instructions on the label. Solvent-based products are most effective, but could be problematic for people sensitive to chemical agents.
Antibacterial dishwashing agent
Paper towel
Small paintbrush
Disposable microfiber cloth
How to Seal a Granite Countertop
Clean the surface with the antibacterial dishwashing agent and paper towel.
Allow an hour for the countertop to dry completely.
Open a window and wear rubber gloves. Solvent-based sealers can be tough on people sensitive to chemicals.
If you are using a spray bottle sealer, spray a liberal layer of sealer on the countertop.
If you are using a canister of liquid sealer, use the small paintbrush to spread a liberal layer of sealer on the countertop.
The granite will appear darker when wet with sealer. This is nothing to worry about—it will return to normal.
Do not allow the sealer to dry. After 10-15 minutes, wipe off the bulk of the remaining sealer with the paper towel.
Buff the granite countertop with the disposable microfiber cloth.
Allow sealer to cure for 1 hour before using and 24 hours before cleaning.
How Often Should I Seal My Granite Countertop?
A good rule of thumb is to re-seal your granite countertop annually. However, it's just that—a rule of thumb. Depending on how you use the counter, you may not have to re-seal as frequency. If your counter is used heavily with corrosive products, you may need to re-seal every three months. For lighter use, you may wait more than a year.
When in doubt, perform the test as described above to determine if your granite countertop needs re-sealing.
Kenosha Kitchen Counter Experts Help You Care for Your Granite Countertops
Granite countertop experts at All Stone Tops have many years of experience installing, repairing and caring for stone kitchen and bathroom countertops. We know exactly what it takes to seal your granite countertop and keep it looking beautiful and remaining tough against heavy use.