Quartz
Manufactured Stone Countertops Offer Great Performance in Many Colors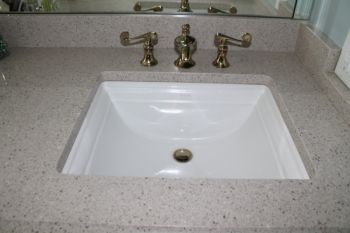 Quartz is the only engineered stone offered by All Stone. It's a great, easy-to-maintain choice for kitchen and bathroom countertops. Made by pouring ground quartz mixed with man-made resins into a mold, quartz countertops can be made in an almost limitless number of custom colors and shapes.
Naturally Non-porous, Quartz Countertops Never Need Sealing
While quartz is naturally scratch and heat resistant, it does have a slightly lower temperature threshold than some other stone counter materials. The polymer resins used to bind the quartz chips together may begin to melt if exposed to temperatures over 400°F, damaging the counter surface.
The quartz countertops sold by All Stone are manufactured by Hanstone, Silesone, Caesarstone, Compac, Viatera and Difiniti.
If you're looking for a brightly colored or unusually shaped countertop, quartz may be the right choice for you. The countertop installers at All Stone have decades of experience helping homeowners pick out the right material for their kitchen, bathroom, basement bar and other countertops. Choose All Stone and you'll get the perfect countertop for your home.
Choosing Between Granite or Quartz Kitchen Countertops
Many people spend a lot of time and energy determining whether they prefer quartz or granite countertops for their new kitchen or bathroom. While both countertop materials are very durable and strong, there are a few key differences buyers must take into account before purchasing:
Quartz is non-porous and does not require sealing—granite does
Quartz has consistent visual patterns, granite has natural imperfections
Quartz prices are more predictable
Consult our granite and quartz comparison guide for more information on the two stones and their unique characteristics.