Showroom
Get Inspired in Our Countertop Design Showroom!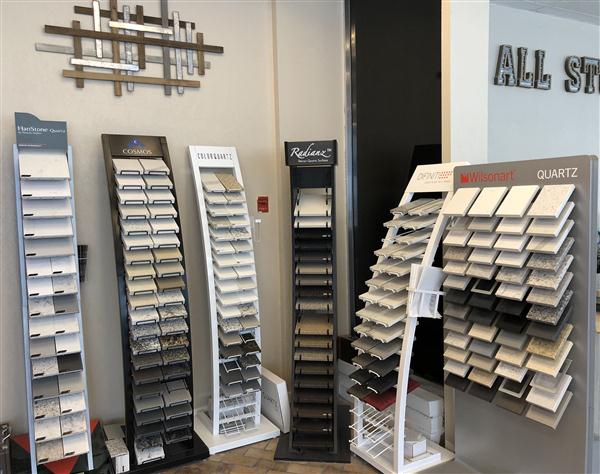 Come visit the All Stone showroom in Kenosha to get a firsthand look at our wide variety of countertops. We stock many popular colors of granite, quartz, marble and quartzite. With many options to choose from, you'll be able to find the perfect color to pair with your dream kitchen, bathroom, etc. One of our experienced team members can also help you find that perfect color and material that will best bring out your style and fit your lifestyle. We also carry a variety of Kitchen and Bathroom Sinks to go with your new countertop. Each of our sinks will be professionally installed, along with your countertop, by our All Stone team. The craftsmanship and precision that gets put into every installation will have your new countertop and sink lasting for years. Get inspired and find the right color stone for your home.
Stop by our Kenosha showroom to consult with our team for more ideas on how to personalize your kitchen and bathroom design. Choose your counter's thickness, color pattern, edge profile, and sink and we'll custom fabricate a stone slab to fit your specifications.
High Quality Products and Professional Advice
Along with your installation, our All Stone pros will teach you how to keep your new countertop looking like new for years to come. Granite, Quartz, Marble and Quartzite each have unique qualities that demand their own method of cleaning and care. Our experienced professionals can instruct you how to maintain your stone countertop, the different types of products to use, and how often to use them.
To accurately visualize your new kitchen from All Stone, bring a cabinet door to compare against our color samples. Also, bringing an extra floor tile, piece of backsplash or sample of your wall color can greatly aid the selection process. The more you can bring, the better idea of what your dream kitchen or bathroom can look like. We can also help recommend different colors that will pair well with the samples you bring in. With consideration of the color, texture, and style of your personal samples, we will find the color stone to complement them.
Remember, a countertop displayed in our showroom may look slightly different in your home, but don't worry. We have some of the most popular granite colors available in 6x6 samples for you to take back to your home to help make that final decision easier! We can also bring quartz samples to your home to zero in on the perfect color at no additional charge. This way you won't have to worry about bringing your own personal samples to our showroom and can see them in your home's lighting.
We carry 16 plus Quartz brands that are each displayed in our Showroom. We also have a large inventory of granite in-stock slabs and remnants that are available for smaller projects. Stainless Steel and Granite Composite Kitchen Sinks are displayed along with Bathroom Vanity Sinks.
Stop in at our showroom, meet our team and gather more ideas for your kitchen remodel. In the meantime, feel free to contact us with any questions in advance. One of our team members will be more than happy to assist you. 
Take a look at our pictures below to have an idea of what to expect when you visit our amazing showroom.