Why the Sink is Most Influential for a Bathroom Design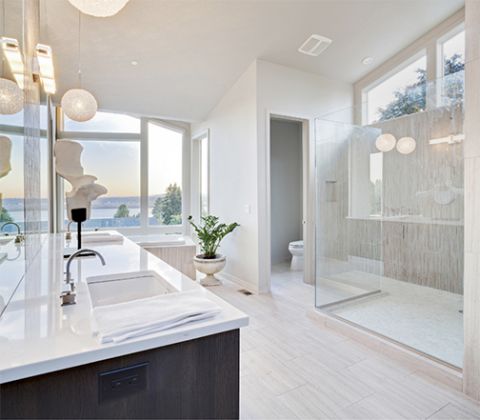 We all know that how something looks on the outside doesn't always communicate what is happening on the inside. It is the classic phrase 'don't judge a book by its cover. This is generally true when it comes to someone's residence. A home's exterior will generally say something about the home, from the landscaping, siding, and trim paint, to the garage doors, but the outside of the home isn't always delivering the same message to visitors and residents as the interior is (for better or for worse). However, the deeper you get into design, whether interior or exterior, you'll find designers like to develop flowing, universal themes for whatever they are putting their creative genius behind. When it comes to your home, you are the designer! Well, at least you are the one with the checkbook and the budget, which is really the largest contributing factor when it comes to doing any home renovation. With that said, let's bring out your inner designer and put it to use!
To be clear, how the inside of your home makes you feel is important. You're living in it each day. When you go into a room, you want to feel like it is clean, within the vicinity of modern trends (perhaps more important to some than others), and that the space is being maximized for whatever purpose it serves. In this blog, we talk a lot about kitchen remodeling projects, and rightfully so, because the kitchen is one of the most used shared spaces in the home. Not to mention, All Stone's expertise is kitchen remodeling, especially when it comes to cabinets, countertops, and sinks. However, another important area we need to discuss is the bathroom.
Bathrooms serve a primary function in the home. They are a shared space that everyone uses to take care of various personal activities. But traditionally, family members have the understanding that not every bathroom is the same. For example, we wouldn't say it is uncommon for someone, such as the adults, of the home, to institute a rule saying children are not allowed to use the adults' bathroom because those tend to be the bathrooms in the home where the themes are more classic, clean, trendy, peaceful, modern, etc. Other bathrooms may have a slightly different use or feel to them. For example, the small half bath right next to the garage door entrance of the home may be used more by kids coming in and out from outdoor activities, or it may be the preferred bathroom for guests to use while the homeowner is entertaining. The point is each bathroom in a home may be slightly different, depending on the bathroom's use. The budget allocated to making it feel a certain way will determine the next step in a bathroom renovation.
Finally, let's discuss our topic of interest, the bathroom sink. All Stone offers a wide array of bathroom sinks to choose from depending on what you are looking for; from bronze to porcelain, glass, copper, stainless steel, and stone, just to name a few.
Why is a sink so important and influential to the bathroom? 
Because it's the focal point of the room. Most, if not all bathroom trips involve accessing water, usually due to washing something like your face or hands, and use of the mirror (which almost always sits directly above the sink). The sink is the most used and gets more attention than any other object in the bathroom. When thinking about a new All Stone bathroom sink, you have to decide whether you want the sink to be an over-mount or an under-mount. There are a variety of different factors to consider in this decision, which we discuss on our 'Sinks' page, but in short, it comes down to your budget and the amount of space needed in the bathroom vanity or storage beneath it.
If you are content with your bathroom sink it would be wise to design the remaining bathroom remodel in a way that correlates with the sink. This could really help with your budget planning and give you direction on what cabinets, countertops or other improvements would be most fitting for the bathroom. If you want to renovate the bathroom and give it the exact feel you are looking for, the first selection you want to make is a bathroom sink that aligns with a theme for your selection. We advise you to think about the design, functionality of the sink,  durability, and of course, (most importantly) your budget! If you are looking to replace your sink, that is great as well! Just make sure it fits within whatever dimensions you currently have in the bathroom design. If you need help making a selection, our experts at All Stone are happy to advise.
Renovations are exciting! They play a huge role in transitioning a house to a home. A great renovation can aid in bringing out positive feelings for whoever is in the new area of the home. What sets All Stone apart from our competition is our pricing, personalized service, and start-to-finish mastery. Contact us today and make All Stone the foundation of your bathroom countertop and sink project!