Simple Ways To Make Your Small Kitchen Appear Larger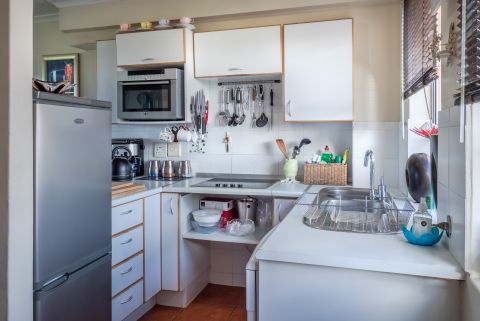 If you have ever lived in an apartment, condo, or just a home with a small kitchen, then you know just how frustrating it can be to have less than the desired space you want. If you are dreaming of doing an upgrade, but don't want to, or can't do a full remodel then let us provide you with a few ways to use your small square footage to its fullest potential. Below are just a few great ways to make your tiny kitchen appear larger than it actually is.
Glass Cabinet Doors, or Open Shelving
Glass cabinet doors can make your kitchen feel larger, simply by making it so that your kitchen has more depth. If glass cabinet doors aren't your thing, simply remove the doors to achieve a similar feel with open cabinets. Both of these options open your kitchen up and make it feel as if you have extra space, simply by eliminating solid barriers.
Roll Out Pantry
Perhaps you have a bit of awkward space next to your refrigerator. This space could be perfect for a customized pantry. This may free up another cabinet to then store appliances, cleaning supplies, etc. By creating this room and being able to clear up some excess clutter it can make your kitchen feel larger.
Skylight
If you own your home, skylights are a great way to add some natural light. By allowing for a bit of the outdoors to come inside you can make your tiny kitchen feel larger.
Light/Bright Colors
If you have a tiny kitchen, try to refrain from using dark colors. Dark colors can make your tiny space feel even smaller. Instead, use light colors and materials when choosing linens, utensils, cabinets, appliances, etc.; think lots of white, yellows, reds, teals, and other bright colors.
Utilize Wall/Ceiling Space
When dealing with a small space, it is important to utilize all free surfaces. Hang a decorative rack from your ceiling for pots and pans, install magnets along your wall for knives or other utensils, install a rack for your spices or mugs. All of these things utilize unused space and may open up cabinets for small appliances that are otherwise on your countertops, causing your small space to feel cluttered.
Mirrored Backsplash
A mirrored backsplash can increase the light in your kitchen by causing light to bounce around. This effect can make your space feel larger, and more open.
New Countertops
A new countertop can make any space feel more open and updated. Keep in mind that you will want to choose a stone that is lighter and uniform in color, as well as something without a lot of inclusions, patterns, or veining.
These are just a few simple ways to create the illusion of a larger space. For more great ideas, or help in updating your countertops, creating custom cabinets, or installing a new sink, call our creative team at All Stone today. Located conveniently near the Wisconsin border we service Southeastern Wisconsin and Northern Illinois. Our specialists will help you to create a unique area that is big on style, even in the tiniest of spaces. Contact us today!