4 Easy Ways to Keep Your Countertops Looking Their Best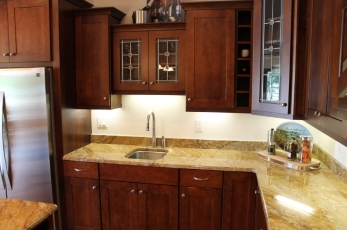 Stone countertops are known for their long-lasting durability and for being fairly low maintenance. While some types of stone countertops require regular sealing, many perform best with only regular cleaning. After having your stone countertops installed, it is important to know how to maintain these materials to keep them looking their best for years to come.
Choose the Right Countertops for You & Your Lifestyle
Not all countertops are the same. Therefore they will perform differently under certain conditions. When making a decision between synthetic material or stone, it is important to take into account the material's strengths and weaknesses, so you can obtain countertops that will function well with your lifestyle.
Natural Materials
Natural stone countertops are a great choice for homeowners who prefer organic and natural materials. Remember that certain stones are porous (granite, marble, limestone) and may need extra preventative care to avoid stains.
Engineered Stone
Engineered stone is known for being stain-resistant, durable, and easy to maintain. This makes it a great choice for homeowners with small children, pets, busy lifestyles, or for homeowners who do a lot of cooking and may be hard on counters.
Seal When Needed
Many stone countertops, marble, and granite included, will need to be sealed on a regular basis (about once a year). Most engineered stone, such as quartz, and soapstone do not need to be sealed. Be sure to read the manufacturer's instructions and warranty for more information.
Sealer will prevent your natural stone countertop from absorbing liquids, such as wine, juice, or cooking oil. Failure to seal your natural stone countertops may result in your countertops becoming stained. How often your counters need to be sealed will depend upon a few factors:
How your countertops are used
What material your counters are made from
Quality of sealer used
One way to tell if the sealer has worn off is to spill a tablespoon of water on your counter and leave the water for a few minutes. When you wipe the water away, all moisture should be picked up by the towel. If a water stain is left, the counters need to be re-sealed. Keep in mind that the water stain will evaporate, it just needs a bit of time to do so.
Regular Cleaning
All countertops need to be cleaned regularly due to the potential for germs and other food-borne illnesses. To efficiently clean your countertops, simply use a damp, soapy rag to wipe up all food particles and dust. This should be done not only between meals but also at the end of every day. If spillage should occur, be sure to wipe it up right away, especially anything acidic, such as tomato juice, or wine; these liquids should be cleaned as soon as possible to avoid staining.
Do not use abrasive material or acidic cleaners, such as vinegar. Acidic cleaners may scratch or etch the surface of your counters, thus leaving the surface more susceptible to staining.
Know Your Warranty
Be sure to read any warranty that comes with your countertops. Within the warranty, you may find information that is helpful regarding what to do or not do with your counters. Follow these instructions to avoid damaging your counters.
With proper care, your countertops could last for decades to come. Yes, natural stone is that durable! For more information about how to best care for your stone countertops, feel free to contact our team at All Stone Tops. We have been the premier fabricator and installer of natural and engineered stone countertops in Southeast Wisconsin and Northern Illinois since the 1950s!