Thinking of a Kitchen Remodel?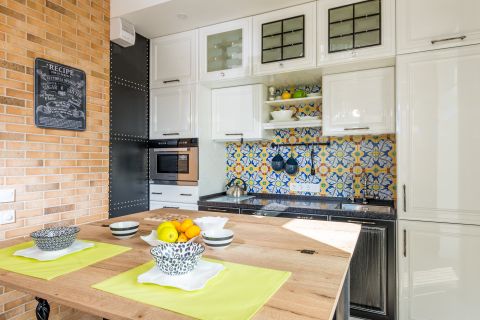 For many families, the kitchen is the heart of the home. It's where we gather for breakfast, children do homework, and we reconnect with family and loved ones. For many, this is the room that brings everyone together, especially with today's busy schedules. With all of the traffic your kitchen receives, you want it to have a welcoming feel to it, as well as reflect part of your personality. If you find that your kitchen doesn't feel as welcoming as you would like it to, it may be time for a remodel. Below are a few ideas, to help get you started on your next remodeling adventure!
Kitchen Island
A kitchen island can often make a dramatic difference. Islands add extra counter space, cupboard space and provide extended seating and eating areas. Your kitchen island can also be an excellent space for crafts with children, double as a work or homework station for the whole family, and be a cooling area when baking. Your kitchen island can also be a great space for friends and family to gather and chat while you are preparing a meal.
Bold, Statement Cabinets
The cabinets you choose for your kitchen can make a big difference to the aesthetic of your space. Cabinets come in so many different colors, materials, shapes, and sizes that you will be sure to find a style that fits perfectly for your design.
When choosing cabinetry from All Stone, you not only get to choose your choice of wood (oak, maple, cherry, or alder), but you also get to choose your fixtures and have a say in the footprint of your new custom cabinets. You can personalize your cabinets with fold-out mixing stands, hidden cutting boards, multi-tiered Lazy Susans, drawer inserts, spice racks, and trash bins; everything to maximize storage space and create your dream kitchen.
Luxe Countertops
Countertops may be one of the most important features in any kitchen. Your countertops take a lot of wear and tear, from cooking and baking, to arts and crafts, to workspace. A lot happens on your countertops! You will want a countertop that best suits your family's needs. Keep in mind that your counters, while being functional, can also be a focal point! There are several materials (quartz, granite, quartzite to name a few) that while being durable, also come in a variety of colors to make a bold statement.
Kitchen Flow
The flow of your kitchen is extremely important. Creating a kitchen flow that suits your needs may require an extensive floor plan overhaul. This floor plan should utilize the space you have and complement your family's lifestyle; whether that be extra storage space, workspace, or counter space.
Color
A simple way to update your kitchen may be to simply add some color. This could mean replacing your countertops, adding a new backsplash or painting your existing cupboards. Adding color can make your kitchen feel like new and rejuvenate the life of the room.
WOW Factor
Every kitchen should have a WOW factor. This would be a personally chosen statement or standout piece. This statement piece could be unique cabinetry, an oversized island, bold countertops, or beautiful lighting and fixtures. Whatever your standout piece is, it should reflect your personality and allow your kitchen to reflect your design aesthetic.
The level of remodeling you wish to do in your kitchen is a personal choice. Remember that the updates you make to your kitchen are a good investment for the future and will allow your kitchen to continue to be a favorite gathering place in your home. No matter what you decide to do to update the heart of your home, our professionals at All Stone will be there to answer questions, help design new floor plans, or assist with choosing the right countertops for your needs. Contact us today to start your kitchen remodel!