Kitchen Remodeling Ideas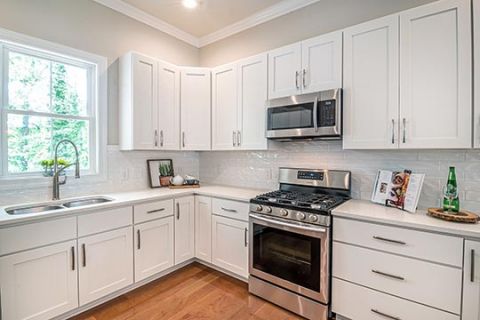 Is your home a bit older? Is it starting to feel a little outdated? Maybe a combination of both? Well, one way to remedy this is to do a kitchen renovation.
The kitchen is typically thought to be the heart of the home. It is where you often gather with friends and loved ones, it's where you provide nourishment, and often where a family bonds. So, of course, you want your kitchen to feel warm and welcoming! However, most people have no idea where to start when it comes to remodeling this well used room. Below are some wonderful places to start to make your kitchen feel vibrant and full of life. Choose all of them at once for a full remodel or select just one or two to give your kitchen an upgrade where it needs it most.
New Flooring: Nothing will breathe new life into your kitchen quite like a new floor. There are many options to choose from, with hardwood flooring being one of the most popular choices. Tile and vinyl options are also viable flooring alternatives. A kitchen remodel isn't complete without this important cosmetic piece.
Cabinets: If you have an older home, it's more than likely that your kitchen cabinets are a little scratched and dinged. This is a sure way to date your home, and a sure sign that it is time to update. There are many choices to choose from, no matter your budget. RTA (Ready to Assemble) is a great way to save some money. These cupboards come in a package and supply you with everything (including hardware) for a flat rate.
For those with cupboards that still look fine, but just need a makeover – updating your hardware is a great and cost effective way to accomplish this task. There are many choices for all styles, budgets, and color schemes.
Backsplash Update: There is almost no easier way to give your kitchen an instant, updated feel than updating your backsplash. This is also a cost effective way to begin your kitchen remodel. There are many different colors, styles, materials, designs, etc. to choose from when creating your new backsplash. The possibilities seem almost endless! You could even just add an accent backsplash to what you have currently, for a less dramatic update.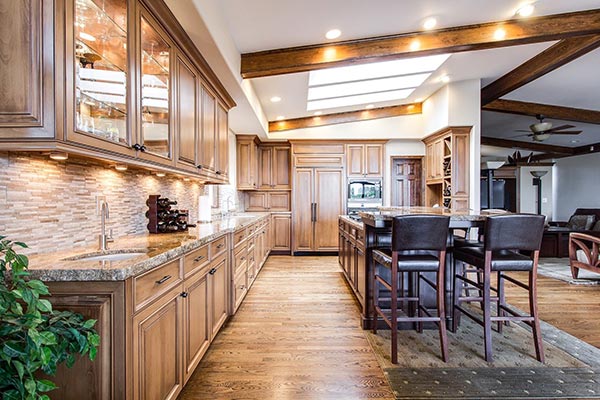 Island: Kitchen islands are a great way to open up your space and provide extra storage. Your new island can be a great focal point, especially depending on the countertop you choose! Remember to install an island that is size appropriate, and out of the way of heavy foot traffic. Moving any appliances or your sink to the island will require more extensive work, but can help rearrange your kitchen and free up valuable counter space elsewhere.
New Appliances: Appliances are arguably the most important feature of any kitchen. Without them, nothing would get done. If it's been a few years since you replaced your appliances, now may the time to think about doing so. Not only have designs and materials changed, but new appliances are also more energy efficient and can save you money in the long run. If you have done other renovations or plan on it in the future, be sure to pick appliances that will match the new color scheme and/or style of the other kitchen elements.
Countertops: Countertops come in a vast array of colors, textures, and materials. You can get anything from laminate to granite and other natural stones. No matter what your style and color scheme, there is a countertop for your kitchen remodel.
The most important part of any kitchen remodel is that you make it your own as you spend so much of your time in there. Here at All Stone, our experienced team can help answer any questions you have concerning stone countertops, custom cabinets and sinks.