The Impact of Stone Countertops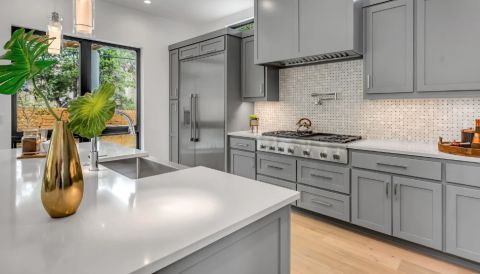 The kitchen is often considered the heart of the home, and countertops are an essential part of the kitchen. Updating the countertops in your home can be a great way to increase its value and make it more attractive to potential buyers. This article will discuss the various benefits of purchasing new countertops, such as improved aesthetics, increased durability, and increased home value. By investing in new countertops, you can make your home more attractive and valuable, while also improving its overall appearance.
The Power of Aesthetics
When it comes to finding the perfect home, one of the most attractive aspects for potential home buyers is an aesthetically pleasing kitchen with newly installed granite or quartz countertops. Granite and quartz countertops have become increasingly popular in recent years for their beautiful and all natural appearance. Stone countertops such as these reverberate style and longevity to home buyers, which is what many of them are in the market for.
A kitchen can largely impact the psychology of a home buyer. It is often the first room that potential buyers look at when viewing a property and can be a deciding factor in whether they make an offer or not. It's the place where families gather to cook, eat, and socialize. It's also a place where memories are made. Potential buyers want to make sure that the kitchen is a place that they can envision themselves and their family in. These visualizations are attached to longevity. They want to make sure that the kitchen has the features and amenities that they desire.
Stone countertops are often associated with luxury and timelessness, which are aesthetic traits that fit well within family dynamics. Neutral colors and styles are recommended if you are looking to sell your home because they are able to complement a wide range of styles for potential home buyers and their preferences for kitchen decor.
Home Buyers Seek Quality
It is a sad truth that too many home buyers are more interested in finding the lowest cost option than they are in finding the highest quality. This short-sightedness is a major mistake, as it can lead to a home that is not only of poor quality but also more expensive in the long run. Wise and intelligent home buyers should prioritize quality over cost, as this will save them money and provide a much better experience. 
Stone countertops may seem expensive at first, but they are actually more cost effective than many people realize. While the initial cost may be higher than cheap and disposable materials such as laminate, the long-term savings make stone countertops a great option. Today, stone countertops have advanced means for sourcing, which allows homeowners and buyers to enjoy the beauty and durability of stone countertops without breaking the bank.
Nowadays, there are more suppliers than ever before, meaning that there is much more competition and better prices. Additionally, new technologies have made it easier to source stone materials, meaning that the cost of production has gone down. All of these factors have come together to make stone countertops more affordable than ever before. Investing in natural quality countertops is a small but worthwhile investment for your home. Not only will natural countertops add a touch of luxury and style to your kitchen, but they will also increase the overall value of your home. 
Dirtiness Lowers Value
A lack of cleanliness in a home can have a significant impact on the psychology of a potential home buyer while they walk through a house. It can create an immediate negative impression and make it difficult for the buyer to envision themselves living in the space.
Countertops that are not made of stone will sometimes project a sense of dirtiness and lesser value in a kitchen, which contributes to this idea of cleanliness. Not to mention, countertops that aren't stone potentially become a major source of bacteria in the home. These surfaces are not as durable or as easy to clean as stone countertops, making them a breeding ground for bacteria and other germs.
It is unfortunate that stone countertops are not more widely used, as they are easy to clean and maintain in comparison to other countertop materials. Stone countertops require a much smaller effort to keep them looking their best. Cleaning is much simpler than the more labor-intensive cleaning and maintenance that other countertop materials require.
Stone countertops give potential home buyers peace of mind due to their durability and easy-to-maintain nature. It assures this important investment component of the kitchen will last for many years to come. 
Stone countertops are the solution to the higher home value and attracting home buyers equation. They provide aesthetics, quality, and peace of mind when the kitchen is being evaluated. If you are looking for a cost effective way to invest in your home and increase its value, then All Stone is your preferred stone countertop provider in these select areas: 
- Racine, Wisconsin
- Kenosha, Wisconsin
- Waukegan, Illinois
- Zion, Illinois
- Rockford, Illinois
- DeKalb, Illinois
- Sycamore, Illinois
- Elgin, Illinois
- Aurora, Illinois
- Crystal Lake, Illinois
- McHenry, Illinois
- Woodstock, Illinois
- Freeport, Illinois
- Dixon, Illinois
Contact us for a free consultation and estimate today!