Frequently Asked Questions About Quartz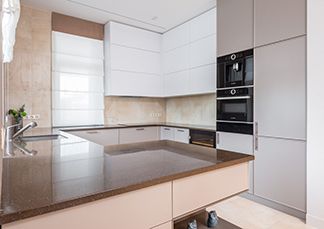 While there are many types of stone to choose from, quartz has become increasingly popular in recent years. This is due to the fact that it is generally more affordable than granite or marble, while still being highly durable. Below are several other facts about quartz and why it continues to be a popular choice for countertops.
What are quartz slabs made of? Where can it be sourced?
The incredible strength and anti-stain properties of quartz slabs are due to how it is created. Quartz is created from 95% crushed quartz natural stone and 5% polymer resin cement-based binders. 
The resin binders contribute to why quartz is resistant to stains, bacteria, and mildews. Manufacturers can easily modify the patterns and colors of quartz during the production stage.
Quartz is mined from many different places around the world These locations include: 
Brazil
Arkansas
India
North Carolina
Why is quartz so popular with homeowners and remodelers?
Quality and versatility of design and color are some of the main reasons why quartz has become so popular. Considering it is engineered, there are a wide array of colors and styles available, one of which will meet your remodeling needs. 
Quartz is harder than granite and fairly low maintenance making it a fantastic choice for functional countertops. In addition to this there are several other wonderful attributes that quartz possesses:
Resistant to cracks and dents
Popular colors are available - white, black, brown, lime green, gray, and beige, as well as many other unique colors (red, blue, green, etc...)
Non-porous surface, so it can wick away moisture, stains, and water
Easy to clean and durable
What is the difference between Quartz, Granite, and Marble?
Quartz is technically man-made so you can expect to find more varied styles and colors, unlike natural stones where their colors and styles tend to be more limited. Quartz is also known to be highly resistant to spills and stains; thanks to its polymer resin binders.
Are seams visible on quartz countertops?
Seams will be noticeable for smaller quartz slabs, due to the high consistency in colors and patterns. This is why it is often recommended that you choose larger slabs to achieve a more flowing countertop and reduce any visible seams.
How to clean and care for quartz countertops?
Generally, all you need is a diluted dish soap solution and a sponge or soft microfiber cloth. You will want to stay away from any abrasive scrubbers when wiping off your quartz kitchen and bathroom countertops.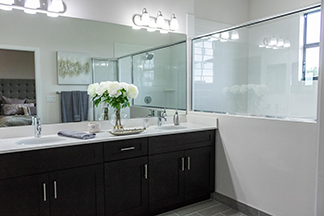 Do you need to seal quartz countertops?
The polymer resin binders that are mixed with quartz highly contributes to its natural anti-stain and anti-microbial properties. Therefore, there is no need for you to treat your quartz countertops before installation.
Will quartz countertops become discolored?
Quartz countertops have long-lasting color and style, however, when exposed to UV rays, it does tend to become discolored quickly. Considering this you will want to avoid using quartz for outdoor countertops unless it is in the shade.
Where can you use quartz slabs inside your home?
Quartz is a popular choice for: 
Backsplash
Coffee Tables
Shower/Tub Trim
What are some friendly reminders regarding quartz countertops?
When you're implementing quartz countertops, be sure to not take for granted its durability and anti-stain properties to make it last longer. A few ways to ensure your quartz countertops last longer are:
Use cutting boards, hot pads, or trivets when working with knives or hot pans
Always clean your countertops after cooking
Wipe up any spills right away, especially juice or wine
Do you need a professional to install quartz countertops?
Quartz is dense so you will need to hire a professional for your installation. Our team is well-trained and experienced. From using the right tools and equipment for customizing, to installing your brand new quartz countertops.
When you are ready to install your new quartz countertops, contact our professional team at All Stone. We also provide free in-home estimates and can help you find your perfect countertops.