Form vs. Function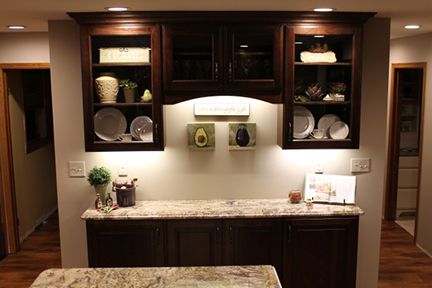 Finding the perfect stone is one small fraction of a full kitchen remodel. Unless you are only replacing your current countertop, a full kitchen or bathroom remodel contains a lot of moving parts. 
Often, the most difficult part is choosing the right stone. This is regularly due to the difficulties in finding a type of stone that best fits your lifestyle, design, and budget. Whether you are simply replacing a countertop or doing a complete remodel, you will want to be sure that the stone you choose fits your lifestyle. 
Determine the main purpose for your countertop; will it be used for lots of prep work for meals each day, a place for work to get done, or a casual spot where friends and family can gather to share stories with food and drinks? After these questions get answered you will have a better idea about what type of stone to choose. This is an important factor due to some stones being more durable and requiring less maintenance than others. Determine your countertop's purpose and find a stone that you can maintain throughout the years.
After you have found the type of stone that fits your lifestyle, you can then start planning your kitchen or bathroom's design. This includes choosing the color and pattern of the stone, as well as the layout of your kitchen or bathroom. Some choose the color of their countertop based on the color scheme of the room, and some vice versa. No matter how you plan you can always find a stone to meet your expectations. For those doing a complete remodel, it is essential to have the design of your layout measured and drawn to ensure no mistakes are made, and nothing is forgotten. This starts with a vision or inspiration but takes a professional to draw out blueprints to ensure that you have the right measurements for your countertop installers. You will want to be sure your vision for your remodel fits with the space you are working with.
Now that you have your design measured and drawn out, you can budget your remodel with an estimated quote from your countertop provider. An estimate is determined by the amount of square footage and the value of the type of stone being used for your countertop, as well as labor. By having an estimate for your new countertops, you'll have a better idea of the total cost for your remodel and if it fits in your budget or not.
With a full remodel you'll be required to have a plan for the location of each countertop, cabinet, and appliance. The layout of your remodel should be thoughtfully planned out using a professional planner, as well as a few potential layouts. 
Using the "work triangle" method in your remodeling plan is a great base for designing your kitchen. This method provides your kitchen with an efficient flow as it is designed to help you take no more than four or five steps between your sink, refrigerator, and range. When considering the "work triangle" method it helps to know where you intend to place your sink, refrigerator, range, and your island (if applicable).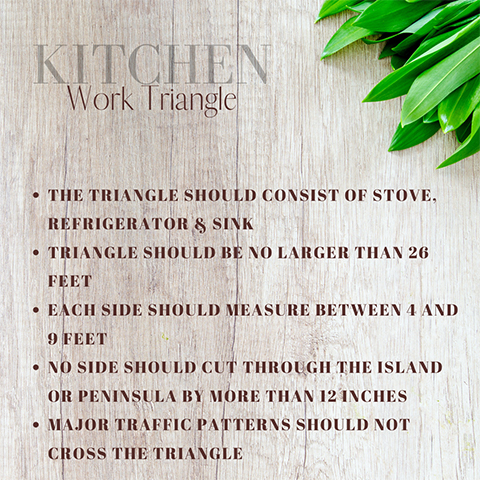 For your sink location, you may want to consider if you'd prefer to keep an eye on your family or guests by having the sink located on your island, or if you would rather your sink be located around the perimeter of your kitchen for more focus on dishes or food preparation. Your range is typically located around the perimeter of your kitchen but maybe part of your island instead of the sink. Being located on the island can be useful, as there will be additional counter space for all your ingredients to be more easily accessible. You will also have the opportunity to create a decorative focal point above your range using a hood surround, hanging cookware, or unique lighting. You will have a much simpler decision with your refrigerator as you'll only need to decide which wall and where in your kitchen it fits best within your layout. The same goes for your island, as an island is the center of your kitchen and separate from any other countertops (hence the name).
To help with efficiency and space, you can make use of your cabinets and countertops by designing them to have more than one purpose. You can equip a drawer with a cutting board that comes out when opened. This can provide you with more space for food preparation, or temporarily provide you with more counter space. There are other innovative ideas such as having a lower cabinet that slides out which accommodates your trashcan and recycling. This will help open space in your kitchen by having your trashcan and recycling hidden within your lower cabinetry. For more innovative ideas, consult with your countertop and cabinetry designer to best match your needs and expectations.
 
When you are ready to begin your kitchen or bathroom remodel or refresh, contact our expert team of professionals at All Stone Inc.! We offer competitive prices and personalized service in the Southeast Wisconsin and Northern Illinois areas.