Custom Countertops on a Budget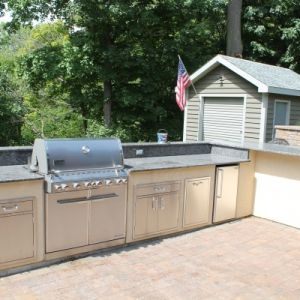 So you've decided that putting a budget aside and making an investment in your home is not only going to increase its long-term value but will also benefit your family. Now the question is, what are you going to do and how are you going to do it within your means? It sounds like an overwhelming project to take on, and the thought of selling your current home and purchasing a new one may sound less complicated and not as much of a headache, but this may not be the case. Keep in mind, you can pursue a custom countertop option for your home, accomplish whatever it is you are imagining, and not have to fear going over budget. Think about what the addition of a custom countertop basement bar could do for your family and guests. It could completely convert the 'extra space' your currently thinking of your basement as, and turn it into an atmospheric place for movies, sports, and games with family and friends. Or what would it look like to take the backyard, which is primarily used for taking out the dog and letting the kids play, and turn it into a cozy gathering place for your neighborhood? A custom, granite countertop or marble hearth around your fireplace could make that happen.
What if making meals was just another chore but the installation of an outdoor kitchen created a cooking experience that you now look forward to? These custom projects can certainly be transformational to your home, and its value. This is why it is understandable that these are some of All Stone's most showcased projects. Other ideas include a marble threshold in the master bathroom, granite countertop kitchen bar, and many more.
Custom countertops serve the home by creating additional space for storage and utility to whatever area the countertops occupy. A customer countertop is capable of completely revolutionizing the utility, usage, and purpose of any room!
Custom projects require you, as the project manager, to be clear on what you want. The likelihood of getting the most out of your vision will increase depending on the amount of ownership you take in your custom countertop project. The result of this is staying within your budget and avoiding the dip into your savings and other living expenses. You are the project manager, so before you get going, here are a few steps to think about.
Careful Pre-Planning
The more specific you are with your project, the more likely it is you'll eliminate draining your budget that could be better utilized elsewhere. Spend some time researching different designs you like, and different unique custom countertop projects. Spend some more time looking over materials (colors, stone types,dimensions, etc.) and start planning what you want. Lastly, find a company, like All Stone, who will sit down with you and discuss the project you envision. What sets All Stone apart from its competition is the owner will work with you through every step of the project, from the free in-home consultation and estimate, to tear out and final installation. The more you understand about the project the more you will know what your budget can afford you.
Differentiate Value and Luxury
Materials are always going to be a large part of any custom project. Some materials are important for different reasons. Whether it is a stone countertop, wood cabinets, or bronze faucet fixtures, materials are all going to have different values. As the project manager, you decide what is most valuable to you. What that means is you may be willing to use a larger portion of your budget on granite, because that is what you deem as valuable, while at the same time, you decide to go with a more economical option for a sink.
Consultation
Continue to discuss these details with your spouse, significant other, or trusted confidants. The more the details of the project come up in your conversations, the more likely it is that those areas are going to be well thought out and planned, and that you will understand what's going on before it happens. Remember, all custom projects involve the opportunity to work with the All Stone owner, meaning these details are all going to be discussed and nothing is going to surprise you or more importantly, hi-jack your budget. All Stone is a brand people trust, having been remodeling kitchens since the 1950s and being a go-to source for classic, elegant, stone countertops.
Custom projects most certainly can be done within a budget, regardless of the common conception that custom means expensive. It really comes down to what is most important to you and how you think about it. If you make an investment in a custom project, and end up making all of that investment back on the sale of your home, it wasn't expensive, it was a great decision that placed you in a better financial situation! Custom countertop projects are beautiful and transformative. Take a look at the large selection of stone suppliers All Stone offers, as well as our Granite, Quartz, Quartzite, and Marble choices. Contact us when you are interested in beginning your custom countertop project!