Bathroom Remodeling Choices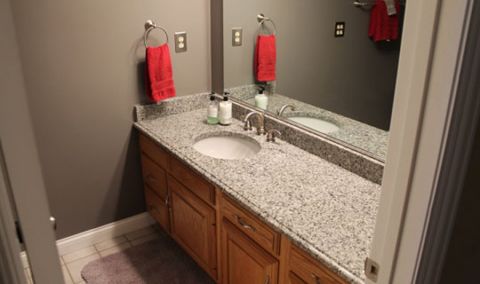 The bathroom is quite often the most overlooked room of the house, despite the fact that is is also one of the most important rooms in your home. It's where you get ready for big events, bathe your children, start and end your day and much more. At All Stone, we recognize how important this room is and will help you to make this room as functional and updated as possible.
When doing a full bathroom remodel it is important to choose a sink that fits your needs. This basic feature often gets overlooked and you end up with a sink that falls short of your expectations. At All Stone, we provide a variety of sinks for your desired style. We feature stone, copper, stainless steel, glass, and copper sinks. We also have a professional plumbing and installation team that will take care of everything, ensuring you have a hassle-free experience!

Once you have picked out the perfect sink, you can then look at cabinets. We will customize a beautiful storage space using beautiful woods such as oak, cherry, hickory or maple. Our cabinets are designed with you in mind and will fit seamlessly into your aesthetic.
After you have chosen your cabinets and sink, it is time to decide on your countertops. All Stone has countertops that not only come in a variety of colors, but also a variety of materials, including granite, quartz, quartzite and marble. All Stone will customize your countertop and ensure your countertop is installed properly. Our team will also help you choose the perfect color and stone to fit your budget and style.
Our team of professional contractors at All Stone is well versed in bathroom remodeling. We look forward to helping you achieve the bathroom of your dreams. Contact us today for an estimate or to discuss design options.